Nev Myring Wins Catering Manager of the Year 2016!
You may think of school meals as a captive audience but with pride we can state that this is not how Nev Myring, our catering manager at Batchwood School, perceives it, in fact far from it. She has won Catering Manager of the Year 2016 (category - Special Education School)!
Working within an SEMH school, the students have many diverse and complex social and emotional needs. Many have little or no understanding of the need for nutritional food and, in some cases, can have a poor relationship with eating. At Batchwood a significantly high proportion of students qualify for free school meals, and sadly, for several this is the only meal they will eat that day. Nev has great empathy with the students and by building rapport she has gained much trust, which has enabled her to cater for the many individual needs of the students. In doing so Nev has ensured that those who would normally choose not to eat are now having a daily balanced meal.
Nev's passion to deliver amazing food stems from her early childhood where she would delight in watching her father cook. He was an inspiration to her, as an accomplished chef at the Dorchester, before going on to run the family restaurant. Seeing the pleasure and the social occasion side of the dining experience has remained with Nev and underpins her approach to the provision of school meals.
Nev knows her customers. She listens to students preferences and provides delicious creative twists to HCL menus, incorporating a diverse range of food from across the globe; embracing and celebrating the cuisine of many cultures. Her signature dish is her roast dinners which are legendary, worthy of this claim, as those on packed lunches can't resist joining the weekly roast dinner sitting; some students have even been known to pay with their own pocket money!
As her father did with her, Nev provides a much needed role model encouraging students to try new flavours and foods to broaden their horizons; an opportunity many of them would not have at home. She is a creative cook and over and above of daily duties, has demonstrated to students how to turn natural food sources; using school grown vegetables, into delicious soups and salads in the hope they can replicate this at home.
Nev is an integral member of Batchwood School, she takes personal accountability for providing a balanced meal in turn contributing to the overall well-being of our students and their ability to concentrate and learn. Nev's personality is as colourful as her food. She has a flexible approach and nothing is too much trouble. She is a much loved and respected member of the Batchwood team by staff and students alike and she deserves to be recognised for the role she plays in creating the right foundations as we prepare our children for their next steps on their journey in life.
Testimonials:
'Nev is an inspiration, kind, warm hearted and empathetic. She is the hub and rock of the school as ensures everyone is cared for. Without Nev the school would not function nearly as well We al love her and she truly deserves this award.
Anne Spencer, Headteacher
''Nev is an amazingly inventive cook. I am amazed at how she adds a twist to all her meals to make them interesting and tasty, and have picked up some great tips.
When the new year 7's started some parents were saying their children didn't like school dinners, however, once they saw the standard of meals and how everyone enjoyed them, they all changed to school meals!
Nothing fazes her. She is always cheerful and has a special rapport with all the students. She knows their individual likes and dislikes, including those of the staff, and strives to accommodate where she can their preferences, especially as many of hem have issues with food and eating with others.
Visitors are always commenting on how nice lunch was and comment that they love coming to visit us.
Nev is very flexible and accommodating. The nature of our school means that students often come in late but she always manages to cater for the unpredictability of their attendance and cater for them without any fuss.''
Sharon Vella , Receptionist
'Nev always brings a smile to everyone's face and she is my mum away from home!'
Tom Tansey, Behavioural co-ordinator
'With reference to school dinners could I express how friendly and supportive that Nev is, I would like to commend her on how tasty and delicious the food that she prepares for school dinners.'
Steve Johnson, TA Design & Technology
'Always willing to go the extra mile – I have never had such good lunches in all the other schools I have visited.'
Debbie Hawkes, Lead TA
'Nev is always willing to accommodate last minute requests and change of dinner numbers, She takes everything in her stride with a smile.'
Amanda Clewlow, Health & Safety Manager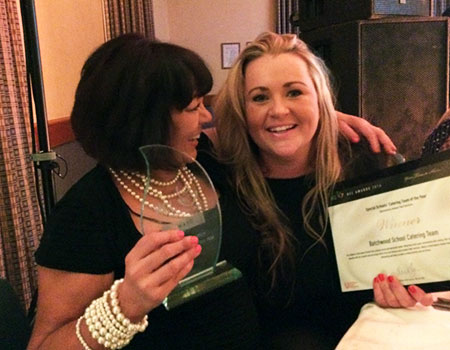 Student Testimonials/Feedback
'I think that Nev is the most amazing person ever, she has helped everyone including me and I am very grateful. She cooks the most amazing food I have ever tasted and she treats all the staff and the students with respect and is always delighted to see us at school. She is kind and friendly and cool headed in a crisis. She tries to do what she can to help people and we can always depend on her. She has a good sense of humour and has a fun personality.
I have known Nev for 4 years and during that time she has helped me through difficult situations in my life.
She has recently supported me with losing weight and she always encourages me to make healthy choices, I have lost 4 stone in weight also my health is so much better because of what Nev and everyone else did for me. '
Shanah Year 11 Student
'My favourite cook is Nev because she is the nicest person ever. Nev makes the best tasting and good looking food she can. My favourite food she makes is a wrap – it's amazing and healthy. Nev always helps everyone out. She makes sure that everyone is happy with her and her food.
I could never ask for a better cook that Nev'.
Ez, Year 10 (Diabetic diet)
'My favourite thing Nev cooks has to be the curry because it is so good. But it's not just the food that's good she has a great personality and she always tells a good joke.
Nev is never rude, she is very polite. She likes to know you are well fed. She likes to know you're ok like whenever I see her she asks if I'm ok and if I'm upset she always cheers me up by giving me a hug or an ice cream bar.
She is just a good soul and I hope she wins because she really deserves it.'
Jamie Year 11 Student
'Nev is really friendly and she accommodates everyone always making sure there is an extra option for everyone, always going that extra mile. The food's always nice and healthy and she always asks if you're okay if you look sad.'
Lewis Year 10 Student
'I am a student who has a packed lunch, but I love Nev's roast dinners so always have that once a week'
Lilly Year 8 Student