Careers Advice and Guidance
At Batchwood School, we offer careers guidance that seeks to engage and challenge each learner to think about their skills, interests and abilities. We aim to provide all students with valuable careers knowledge, and to help each student establish their own future career path. It is extremely important to us that the students feel that the guidance on offer is relevant and useful to them, so that they can be confident and successful now, and for many years to come. Having the Quality in Careers Award will help students to know that we value their interests and also their future.
CSW Investors in Careers – The Quality in Careers Award 2022
The Quality in Careers Standard Award by CSW Investors in Careers has been achieved through completing a detailed assessment of the careers programme and careers guidance at Batchwood School. This can only be awarded if all criteria has been attained by the education provider. The Quality in Careers Standard is a nationally recognised careers award. Having this award ensures that the quality of the Careers programme delivered, is to a high standard and that students are receiving appropriate careers information & guidance.
View our certificate that shows we are fully meeting all the accreditation criteria incorporating the Gatsby Benchmarks.
Feedback from CSW Investors in Careers:
Strong Senior Management and Governor support and a whole school approach to CEIAG
A dedicated Careers Leader who works well with other staff and external partners to deliver an effective careers programme
Good use of the Gatsby Benchmarks to review the careers programme and a philosophy of continuous improvement
A detailed and well-written Careers Policy
An excellent staff training programme for careers work with effective feedback and follow-up
We firmly believe that it is our role to ensure students are informed, have opportunities to reflect, have access to a wide range of careers opportunities and are thus able to make informed choices about each step of their career. In this regard we are building on a history of successfully meeting the needs of all our students.
On a practical level we work closely with Hertfordshire Services for Young People (formerly YC Hertfordshire) to ensure we 'tap into' students' interests to find the right work experience placement, college course and environment for success. We liaise with professionals, parents and, most importantly, our students to determine the next step.
Most of our students have experienced much change in their lives and as a result they struggle to cope with any change. To address this, we try to source every available opportunity to prepare them for this change. This includes multiple taster days and supported visits during which we share all the relevant information on every student's strengths and weaknesses with our professional colleagues. We try to involve our parents in this as much as possible, so they can support the management of impending significant change.
For all students, we provide access to a dedicated careers area, situated within the school, access to personal guidance from an independent YC Hertfordshire Careers Advisor and provide students with a range of careers information and advice through the whole-school curriculum.
In addition, aiming to widen their career horizons and support their careers journey, we provide opportunities from Year 9 onwards as students make decisions about what Key Stage 4 options to take, thereby starting the process of firming up on their areas of interest and possible future education, training and career paths.
Learning Pathway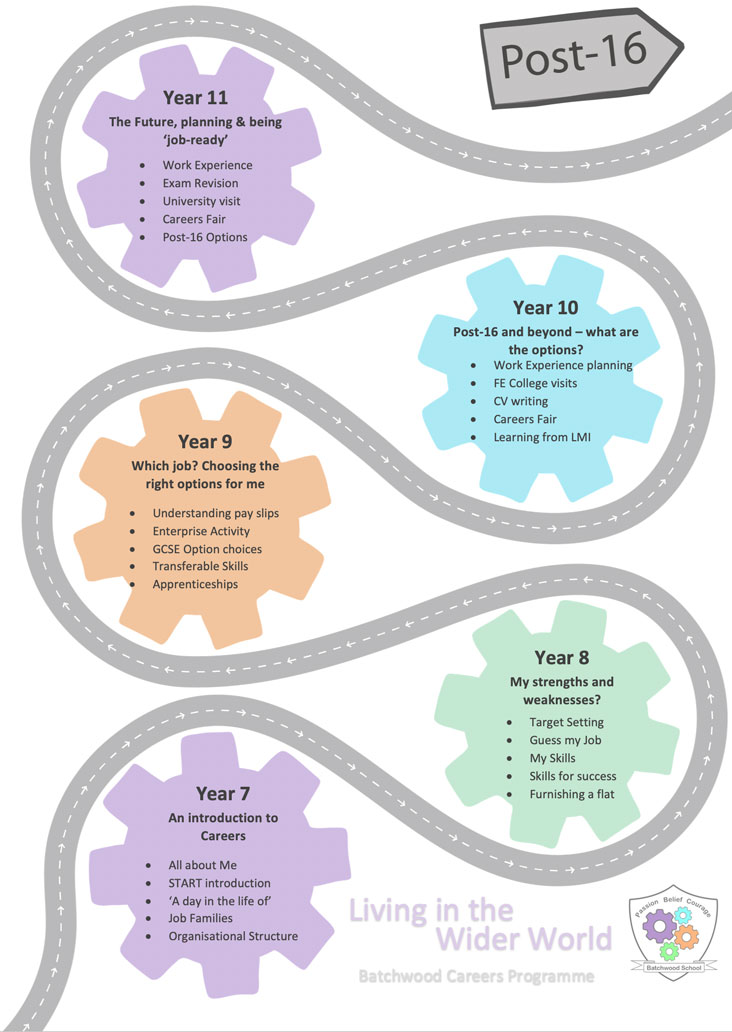 Living in the Wider World - A Guide for Parents and Carers
Work Experience
All students in Year 11 engage in work experience for a week during the Spring Term. Students have scope to seek out their own placements or select those provided by our partners, Services for Young People. The process of finding a placement begins in the Summer Term of Year 10 when all students have a personal interview with the school Services for Young People Advisor, building on the discussions that they have had with their Form Tutor. The form Tutor helps the student to complete all the necessary paperwork for this venture and will visit the student on their placement. This is an excellent opportunity for students to engage in work, build their skills and consider their personal career pathway.
If you have any queries, would like to assist with a careers event or to share your own career journey with our students, please contact us by emailing our
Careers Lead: Mark Pearson via mpearson@batchwood.herts.sch.uk
Upcoming events to watch out for:
Year 7 – 11 motivational Speakers
Year 9 – Options evening
Year 10 – work experience choices
Year 11 – Curriculum Vitae writing
Year 11 – Work Experience week
Year 11 – Further Educational College visits
Motivational speakers to inspire our students throughout the year
ABC Careers newsletter
Careers Policies
Please visit our policies page to view our Careers Policy (59) and Provider Access Policy (59a).
Education or Training Providers
Our provider access statement sets out the school's arrangements for managing the access of education or training providers to pupils at the school for the purpose of giving them information about what the provider offers.
Contacts
Careers Lead: Mark Pearson
Careers Governor: Richard Hattrell
Tel: 01727 868021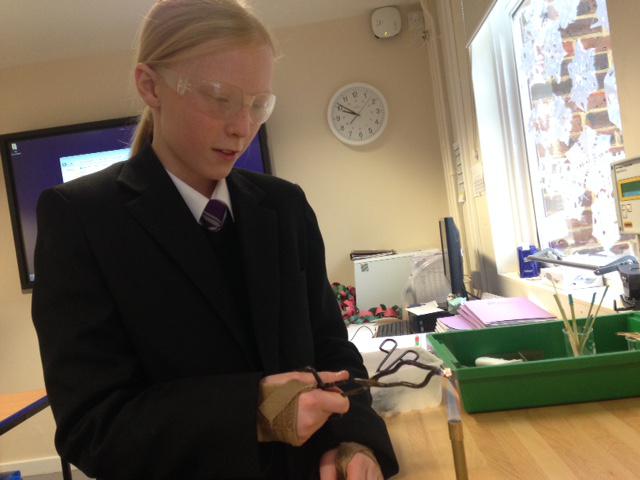 ABC Careers Newsletters
Compass Careers Benchmark Reports
Alumni
If you attended Batchwood School, we would love you to contact us and tell us what you are now doing. We are in the process of forming an Alumni of past students whom we can draw upon to give our present students an insight into the life of work. Please contact the careers lead Mark Pearson at Batchwood School either by email mpearson@batchwood.herts.sch.uk or by telephone 01727 868021
Useful Websites
National Careers Service
nationalcareers.service.gov.uk
This is the Government's hub for careers advice for people of all ages where you can find help with drafting letters, CVs, exploring your skills or seeking careers advice
Hertfordshire Services for Young People
Services for Young People
Providing youth work projects and programmes, information, advice, guidance, work related learning, outdoor education and support for young people aged 13-19 (up to age 24 for young people with learning disabilities).
STEM
www.stem.org.uk/stem-ambassadors
STEMNET creates opportunities to inspire young people by linking people in STEM careers with teachers and schools to enable young people to gain a clear idea of the range of careers available to them.
Local Labour Information
www.hopinto.co.uk/questions/labour-market-information/
Labour market information is region specific and it tells you about the current work and job environment
Hop into Herts
www.hopinto.co.uk
HOP is the premier gateway in Hertfordshire to find out about: career path options, apprenticeships and work experience, skills development and professional qualification programmes.
The Apprenticeship Guide
apprenticeshipguide.co.uk
An apprenticeship, which must last for a minimum of 12 months, combines hands-on work with the opportunity to train and obtain qualifications. It's also a paid position, so you earn while you learn. At least 20% of your time is set aside for learning, usually at a college, university or training provider. The rest of your time is spent applying your knowledge and skills in the actual workplace, doing the job that you set out to get. At the end of it, you'll gain official certification, which will be equivalent to traditional qualifications.